Barrie Orthopedic Physiotherapy
We offer a complimentary 15 minute phone consultation with a registered physiotherapist to discuss your issues and provide advice about treatment options.
About
Orthopedic Physiotherapy
Orthopedic physiotherapy in Barrie is a specialized area of physiotherapy that focuses on treating musculoskeletal injuries and conditions affecting the bones, joints, muscles, and ligaments. 
Orthopedic physiotherapists use a variety of techniques, including manual therapy, exercise prescription, and modalities such as ultrasound and electrical stimulation, to help reduce pain, increase mobility and strength, and promote healing. 
They work closely with patients to develop individualized treatment plans that address their specific needs and goals. Common conditions treated by orthopedic physiotherapists include back pain, arthritis, sports injuries, and post-surgical rehabilitation.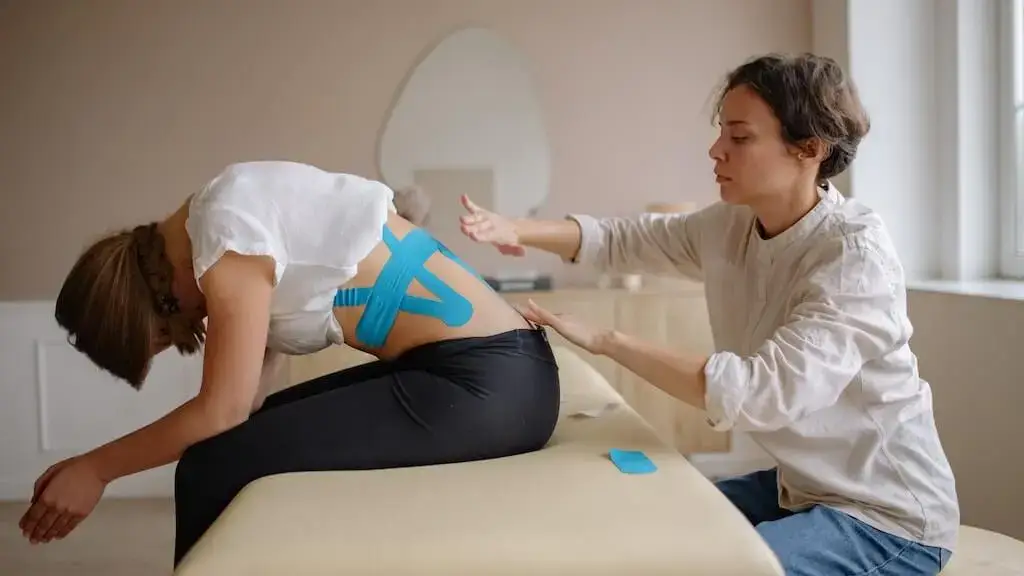 Orthopedic  physiotherapy relates to disorders of muscles, bones, joints, tendons, ligaments, cartilage, fascia, spinal discs and nerves.
Some Orthopedic Conditions Treated by Physiotherapist at Medic Physiotherapy are:
Cervical Radiculopathy
Cervicogenic Headaches
Neck Pain
TMJ Dysfunction
Whiplash Injury
Lower Extremity Conditions
Achilles Tendinopathy
Ankle Sprain
Baker's cyst
Bursitis
Calf Muscle Strain
Chondromalacia Patella
Foot pain
Hamstrings strain
Hip Pain
syndrome
Adductor muscle strain
Illiotibial band
Knee Pain
Metatarsalgia
Osgood Schlatter
Syndrome
Patellofemoral
Syndrome (PFS)
Piriformis Syndrome
Plantar fasciitis
Shin Splints
Tarsal Tunnel
Syndrome
Anterior Cruciate
Ligament (ACL) Injury
Compression Fractures
Fractures
Hip Replacement
Joint Stiffness
Labral Tear
Lateral Collateral
Ligament (LCL) Injury
Medial Collateral
Ligament (MCL)
Meniscus Injury
Posterior Cruciate
Ligament (PCL) Injury
Post-Surgical
Rehabilitation
Knee Replacement
Upper Extremity Conditions
Bursitis
arpal tunnel syndrome
Frozen-shoulder
Golfer's Elbow
Rotator Cuff Injury
Scapula pain
Shoulder Dislocation
Shoulder Pain
Tennis Elbow
Thoracic Outlet
Syndrome
Thumb pain
Upper and Low Back Conditions
Ankylosing Spondylitis
Back pain
Degenerative Disc
Diseases
Herniated Disc
Low Back pain
Sciatica
Spinal Stenosis
Spondylolisthesis
Spondylosis
T4 Syndrome/Upper
thoracic Syndrome
Thoracic pain
Arthritis
Chronic Pain
Complex Regional Pain
Syndrome
Fibromyalgia
Neuropathic Pain
Other Orthopedic Conditions
Gait Abnormalities
Muscle Pain, Spasms and
Cramps
Osteoarthritis
Osteoporosis
Peripheral Nerve Injuries
Restless leg syndrome
Sports injuries
Management of Orthopedic Conditions
Here at Medic Physiotherapy we use patient centered and evidence-based methods to treat patients with orthopedic conditions:
Manual hands on therapy: This includes muscle stretching, joint mobilizations, myofascial release, soft tissue mobilization, Tissue distraction therapy using suction cups, muscle energy techniques, dermoneuromodulation techniques, deep tissue massage and manual spinal traction or decompression.
Exercise therapy: This may include strengthening and stretching of muscles, balance and proprioception exercises, nerve sliders and tensioner, functional movements, muscle activation and training.
Gait and Transfer Training
Acupuncture and Dry needling: We use electroacupuncture along with musculoskeletal related acupuncture and dry needling.
Taping techniques: We use Leukotape and K taping
Biopsychosocial factors: At Medic Physiotherapy we recognize that there may be biopsychosocial factors contributing to patients condition or may be delaying their recovery. Biopsychosocial factors include sleep disturbance, depression, anxiety, stress and more. We use outcome measure tools to assess and try to may generate a referral to appropriate healthcare provider such as psychologist, general physician etc.
Cold Laser Therapy
Extracorporeal Radial Shockwave Therapy
Patient and caregiver education: Educational material regarding their condition and its treatment is provided. Therapeutic Neuroscience Pain Education is provided to patients with persistent pain.